Mode360 Twister V2 with Turntable 75 cm
The second generation Twister is capable of capturing products up to 200 kg in 360 degrees with extreme precision. You connect the Twister v2 and a suitable Canon camera (see below) to a Windows or MacOS computer, after which the Twister and camera are controlled fully automatically by the supplied ModeVid software. You can easily take pictures of all sides of the product.
How does it work exactly?
You place a product of your choice on the white turntable. There are six different sizes available; from Ø 75 cm up to Ø 200 cm. At this moment you are looking at the 75 cm version. The turntable rests on the Twister v2, an enclosure containing, among other things, a powerful electric motor. Behind the Twister v2 you place a white background, so that the white turntable (the base) flows nicely into the background. You also make sure that the product and the background are nicely lit with flash or continuous lighting. If you already have an equipped studio, in many cases the Twister can make use of it. If you don't have backgrounds and lighting at home yet, we refer you to the standard set, which you can find at the optional accessories. Please contact us for a customized lighting solution.
ModeVid Software
In the supplied software you choose the number of angles from which you want to take photos. The photos are automatically stored in a folder on your computer. For example, you can choose to take four photos: the product will then automatically be photographed from the front, left side, back and right side. Of course you can also take one single photo or capture a product from, for example, 36, 50 or 100 angles. From this, the software creates a 360 degree spin, which can be interactively operated by your customer on your website. ModeVid software has many more features; you can create presets, crop all photos at once or adjust the color of the product. If you have specific requirements, please feel free to contact us for the possibilities.
For which products can I use the Twister v2?
Products up to 200 kg are suitable. You can think of furniture, bicycles, white goods and all other similar products. Optionally, you can purchase trays in different diameters and easily switch between them based on the products you are securing. The height of a product is not important, as long as the white background is higher. There are some restrictions in terms of weight; for example, an object weighing 150+ kg may have a maximum diameter of 60 cm and a product weighing 100+ kg may have a maximum diameter of 120 cm. You can find a complete overview of the weight distribution in the diagram below: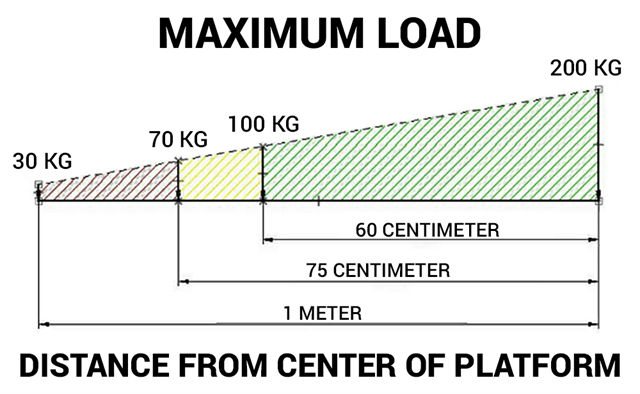 Application Twister v2
When you want to capture products from 0 to 200 cm and 0 to 200 kg as packshot and 360 degree shots, with full control over the light, background and dimensions of the product, the Twister v2 is the ultimate solution. The universal 360-html file is suitable for almost all websites. There is also a special plugin available for Wordpress websites (WooCommerce). With other solutions of Mode360 the light is controlled from the software and you make use of automatic background removal. With the Twister, you take care of a well-lit photo yourself. There is also a special Twister Fashion available, which is specifically designed for photographing people. This can be found under the optional accessories.
ModeVid Premium
A basic version of ModeVid is supplied as standard. Optionally you can purchase ModeVid Premium. This version of the software is more advanced and offers, among other things, a video mode. See the details of ModeVid Premium under optional accessories.
Compatible ModeVid Cameras
You can use ModeVid with the cameras listed below. If your camera is not listed, it may still be able to work with ModeVid. Please contact us for your camera's capabilities.
System requirements Twister v2
To control the Twister v2, you will need to use ModeVid. This program is available for Windows 7, 8 and 10 (64 bit). For macOS, use Sierra (10.12) or higher. The computer should also have an i3 processor or higher, at least 8 GB of working memory and at least 3 usb 2.0 ports. An SSD drive is strongly recommended.
Included:
1x Twister v2
1x 75 cm turntable
1x Power cable
1x USB cable
1x ModeVid Basic
Price incl. VAT: € 0,00