Falcon Eyes Bag SKB-39A L100xB30xH34 Demo
| | |
| --- | --- |
| This product has a limited stock. | |
Price incl. VAT: € 84,95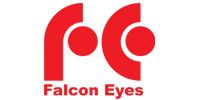 Falcon Eyes
Studio equipment, well known for over 20 years!
Falcon Eyes was founded in 1993 in Hong Kong and makes inexpensive photostudio quality equipment. Benèl takes care of the distribution of Falcon Eyes for 20 years across Europe.
Wide range
Falcon Eyes offers everything for a professional photo studio except for the camera and lens. The broad and deep assortment includes a number of products for the amateur photographer. Falcon Eyes reaches everyone who is working with photography, from hobbyist to professional.