Vortex Rangefinder Impact 1000
The Vortex Distance Meter Impact 1000 can measure the exact distance of objects at a distance of up to 914 meters ( 1000 yards ).
Application Vortex Impact 1000:
The Vortex Rangefinder Impact 1000 is the budget model of the Vortex rangefinders. This lightweight, easy-to-use angle-compensated rangefinder is ideal for hunters but also for anybody who want a precise horizontal distance to an object. The Impact 1000 joins all other Vortex distance meters with the unique fact that they are fully covered for life by the legendary VIP warranty - electronics included.
With the Impact 1000's combination of outstanding and reliable performance at a competitive price, there's no excuse to enter the field without a rangefinder.
The Impact 1000 uses HCD (Horizontal Component Distance) technology. This makes it possible to give archers and riflemen the distance data needed to shoot accurately.
The HCD (Horizontal Component Distance) mode is intended as the main mode and can be used in the following situations:
Measure the distance on a flat surface at any distance.
Measure distances up to 731 meters (800 yard) with a slight tilt (less than 15 degrees).
Measure distances up to a range of 365 meters (400 yard) with a moderate gradient (15 to 30 degrees).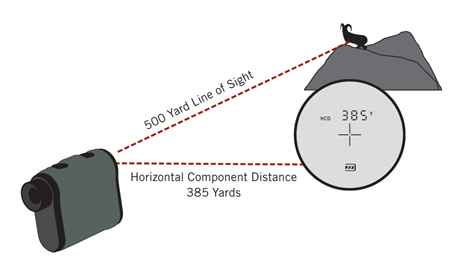 The Impact 1000 also has an LOS (Line of Sight) mode that displays the actual distance from the line of sight and a scanning function that displays continuous distance measurements so that moving objects, such as a group of running game, can be tracked.
Features of the lenses:
Fully Multi-Coated lenses; Increase light transmission with multiple anti-reflective coatings on all air-to-glass surfaces.
Features of the construction:
Waterproof O-ring seals prevent penetration of moisture, dust and dirt for reliable performance in all environments.
Rugged Design, built to handle tough situations. Compact and lightweight.
Dioptre adaptable to the differences in the user's eyes.
Optional cord attachment so it can be hung around the neck.
Other features:
Easy to use menu, very user-friendly menus with simple backlit display.
Intuitive Display, easy-to-use menu with a simple, clear screen.
HCD, Horizontal Component Distance (HCD) mode for angle compensated ranging.
LOS, Line of Sight (LOS) mode displays actual line of sight range.
Scan, This feature displays continual distance readings when panning across a landscape or tracking a moving animal.
Ranging Format, in yards or meters.
Lifetime warranty

Vortex unconditionally guarantees a well-functioning product, for life. You can count on the best quality products, with a very detailed finish. In the unlikely event of a defect, you will be covered by the VIP guarantee.
Included:
1x Vortex Impact 1000
1x Neck Cord
1x Storage Bag
1x CR2 Battery
1x Lens Cloth
1x MOA/MRAD Field Card
1x Manual (English)
Price incl. VAT: € 289,00