The Vortex Razor HD 4000 Distance Meter can measure the exact distance of objects up to a distance of up to 3658 meters (4000 yards).
Application Vortex Razor HD 4000
The Razor HD 4000 is the essential companion for the extreme hunter, archer and shooter. This highly effective angle-compensated laser rangefinder features four target modes (normal mode, first mode, last mode and extended laser range mode) for any environment.
The HCD (Horizontal Component Distance) mode is intended to be the main mode. The distance displayed is the distance of the horizontal components.
The HCD can be used in the following situations:
Measure the distance on a flat surface at any distance.
Measure distances up to 800 meters with a slight tilt (less than 15 degrees).
Measure distances up to a range of 400 meters with a moderate gradient (15 to 30 degrees).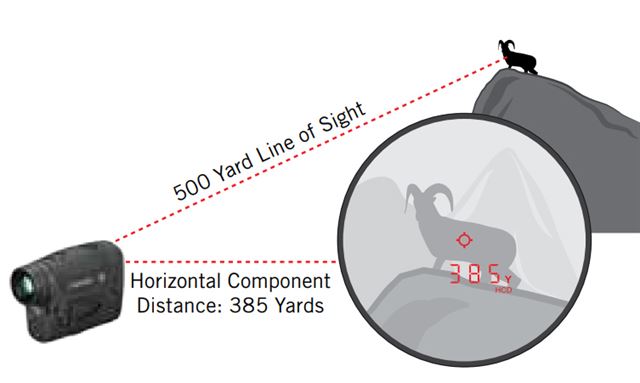 The Razor HD 4000 also features a Line of Sight (LOS) mode, which displays the actual range of vision of the line of sight, and a Scan function, which displays continuous distance measurements so that moving objects, such as a group of running wild animals, can be tracked.
The HD 4000 shaver uses Horizontal Component Distance (HCD) technology. This makes it possible to give archers and shooters the accurate distance data they need for accurate shots.
Properties of the structure:
Robust design, designed for use in all situations. Compact and lightweight.
Rubber armouring, the rubber armouring offers a secure, non-slip grip and durable protection.
Dioptre adapts to the differences in the user's eyes. Located on the right eyepiece.
Waterproof O-ring seals prevent penetration of moisture, dust and dirt for reliable performance in all environments.
Magnesium chassis reduces weight and increases strength.
1/4" tripod port, allows use on a tripod.
Optional cord attachment so it can be hung around the neck. A clip is also attached to the side of the HD 4000 razor so it can be easily slid around a belt.
Other features:
ELR, ideal for a variety of applications at extreme distances. A slightly longer reaction time allows a much greater distance. Best used on a tripod.
HCD, angle compensated range mode.
LOS, Line of Sight, indicates the current range of view of the line of sight.
Scan, displays continuous distance measurements when moving objects are being tracked.
Easy to use menu, very user-friendly menus with simple backlit display.
AWC™, All Weather Capable's rangefinder can be used.
Range format, can display the distance in meters or yards.
Auto power off after 20 seconds when the rangefinder is not in use.
The display has five brightness levels.
Mobile
Targets

Stationäre
Targets

Stationäre
Targets
on the tripod
Normal
1463 Meter
1646 Meter
2194 Meter
Normal ( Scan )
1829 Meter
2012 Meter
2194 Meter
ELR
2012 Meter
2286 Meter
3658 Meter
Lifetime warranty
Vortex unconditionally guarantees a well-functioning product for life. You can rely on the best quality products with very detailed workmanship. In the unlikely event of a defect, you are covered by the VIP warranty.