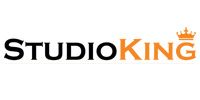 Studio King
A royal price-performance ratio in your studio!
Studio King Studio King is a Dutch brand with a strong core range of popular products in the field of studio photography.
The Studio King brand is characterized by a strong value for money and top-class studio items for a low price. The range is composed by Benèl BV, one of the largest distributors in photo studio products in Europe.