Falcon Eyes Power Supply SP-AC15-7A 3 Pin
The Falcon Eyes SP-AC15 Power Supply is ideal for use in the photo studio. The SP-AC15 has a power output of 15V, 7A.
It is important to note that the batteries must be removed from the LED lamp before using the power cord to power the lamp. If this is not done, the lamp will flicker.
This power supply is (among others) suitable for:
LP-DB2005
LP-DB2005CT
LP-DB820CT
LP-DB1200CTR
LP-DB1400
D5.1
D6.1
LP-2005TD
LP-820TD
LPW-820TD
RX-18T
Two versions
There are two versions of this power supply. As standard we supply the new version, which is suitable for controllers with the sticker below. This sticker is located on both the controller and power supply. Do you have a different sticker on your controller/power supply? Or is there no sticker at all? Please mention this in the remarks. An incorrect power supply can damage your equipment. If in doubt, you may send a picture of the sticker to info@benel.nl.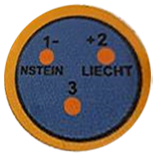 Included:
Price incl. VAT: € 49,95