Taking Pictures with a Spotting Scope. How is it Possible?
Digiscoping refers to photography using a smartphone, digital camera or SLR camera through a spotting scope. Spotting scopes often have a high magnification making it possible for objects to be photographed from a distance. Due to this, it is possible to combine such a lens with a camera to photograph distant object perfectly. This technique is commonly used by bird watchers in order for them to photograph birds in their natural environment without disturbing them.

When using a digital camera with a 3x zoom you can make full-screen photos without black edges.
Digiscoping at Benel
At Benel we have numerous digiscoping possibilities suited for each spotting scope brands we stock. There are solutions for smartphones, digital compact cameras and for SLR cameras, which can easily be connected to a spotting scope by using an adapter. We have created a special page with some important tips for making good digiscope photo's. You can find these tip on the page: 10 Tips voor Digiscoping
Digiscoping Partner
Benel has started a Digiscoping partnership with well-known English digiscoper, Simon Brumby. Simon is a fanatic digiscoper from the North East of England, who has followed his heart to the Netherlands. He has been practicing digiscoping for many years and is able to provide advice to anyone wishing to begin using this technique. Would you like to know about Simon Brumby and his work? Please check this page: Simon Brumby - English Digiscoper in the Dutch low lands.
Digiscoping for Digital Compact Cameras
Using a universal camera adapter such as the Outdoor Club LB22 or Konus Digital Camera Adapter makes it very easy to connect your digital camera to your spotting scope. These adapters have special knobs for the lateral and height adjustments to align the digital camera with the eyepiece. If the camera has a zoom function, it is possible to take full screen pictures without a black border. However, it is advised to use a compact camera on which you will be able to set the shutter speed. The reason for this is that when the camera is zoomed in, the light output is lower.
Digiscoping with SLR Cameras
SLR cameras are known for their ability to be used with a variety of lenses. It is therefore quite easy to combine an SLR camera with a spotting scope. Almost every spotting scope brand sells an attachment to make digiscoping with an SLR camera possible. In conjunction with this adapter, a T2-ring can transform a spotting scope into a large telephoto lens for your digital SLR camera.
All spotting scopes made by Konus are supplied with an adapter, giving the customer the option to connect the spotting scope to an SLR camera. If the customer wishes to do so, an additional T2-ring will need to be purchased. The Vortex digiscoping solutions make it possible for the customer to connect the spotting scope directly to the lens of the SLR camera with their supplied adapter and rings.
Unfortunately, due to the high magnification of the spotting scope lens, you will encounter quite a lot of vibration in your photos. Suppose you take a picture at 60x magnification, it is impossible to keep your camera still while shooting photos at this magnification. To overcome this, we recommend you use a remote controller. Simple remotes are available for most SLR cameras however, for best results, a wireless remote is advised.
Digiscoping with Smartphones
With most people in possession of a smartphone nowadays, by using an adapter, it is possible to connect your smartphone to a spotting scope or even a telescope. Our supplier Kowa, supplies these spotting scope adapters for iPhone 4/4s, iPhone 5/5s and Samsung Galaxy S4 and S5.
ED/HD/XD
Many telescopes and spotting scopes contain the abbreviations ED, HD or XD. These letters indicate that the product contains special glass that makes it possible to take high definition (HD) photographs. Such telescopes and spotting scopes have an extremely clear view but in comparison to telescopes and spotting scopes with regular glass, are much more expensive.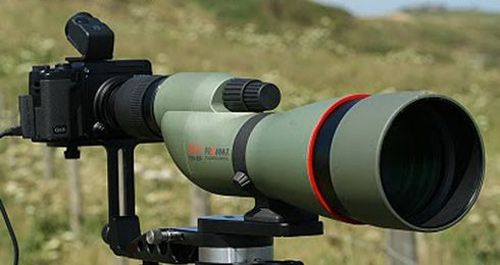 General Digiscoping Tips
Generally, it is recommended to use a lens with a large diameter when using the digiscoping technique. The large zoom range on the spotting scope is compromised with the lack of light filtered through. The bigger the lens, the better the light output and the brighter your photos. Furthermore, a special lens coating can be applied to the lens to provide a much higher light output. For professional or aspiring professional digiscopers, we recommend the Kowa TSN 883. This spotting scope has a 88mm objective lens, a fluorite lens and very good coatings, making it one of the best spotting scopes available.
In addition to a large lens, a sturdy tripod is also essential to bear the weight of the heavy spotting scope. For a spotting scope you require a sturdy tripod, but when digiscoping you will need an extra sturdy tripod because of the additional weight of the camera. The Outdoor Club TR189-11, for example, is an ideal tripod for digiscoping.
Other Questions
If you have any further questions about digiscoping, do not hesitate to contact us. It is also possible for you to visit our showroom to view the different digiscoping possibilities and try them out.