Dye Sublimation Printers
Dye-sublimation printers are ideal for printing large volumes of photos quickly, with professional quality at low cost.
What is a Dye-Sublimation Printer?
A dye sublimation photo printer is a digital printer, which uses a thermal head. This thermal head heats the ink ribbon and causes the image to be transferred onto the paper.
The foil is also referred to as "ribbon" and contains four layers that are used for each image. The three basic colors (cyan, magenta and yellow) are printed on the paper and a final lamination layer concludes the printing process.
Dye sublimation printers made by Sony and DNP have an option to choose between a glossy or matte finish lamination layer. This setting can be changed in the drivers from Sony and DNP, so you can switch between a matte and glossy finish without having to change the paper and ribbon.
What Makes a Dye-Sublimation Printer Unique?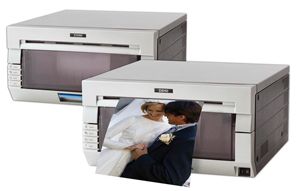 The advanced technology makes it possible to print a large number of pictures, at a very low cost, in a very short period of time. Many of our dye-sub printers do a 10x15 print in roughly 8 seconds. This is significantly faster than normal inkjet printers.
The paper is usually on a roll, so you do not need to change or refill the paper. Depending on the size and type of your printer, one roll will supply between 200 and 700 prints.
When you buy paper for a dye sublimation printer, you always receive the corresponding ribbon. In the box you will usually find two rolls of paper and two rolls of ribbon. If a roll of paper is good for 500 prints, this also applies to the corresponding ribbon. Dye Sub printers do not require you to check and replace the ink levels as with standard inkjet printers, rather, the paper and ribbon is always replaced at the same time. If the paper roll is empty, so is the ribbon.
Usage
Dyesublimation printers are ideal for quickly printing professional photos in large volumes. Especially at events they are very practical. The printers are compact, robust and can be easily transported, for example in a flight case. Almost all passport photo studios are equipped with this type of printer.
Take a look here at the range of photo printers from Benel.
Software Support
For DNP printers, the necessary software can be found by clicking on this link. (Printer drivers and printer status tool for number of prints made.)
Comparison DNP-printers
QW410
RX1HS
DS620
DS820
ID600
Print size
(from / to)
5x10 cm /
11x20 cm
5x15 cm /
15x20 cm
5x15 cm /
15x50 cm
10x20 cm /
20x80 cm
10x15 cm
Paper quality*
Standard or premium
Standard
Premium
Standard or premium
Standard
Print speed
(from)
18 sec.
(10x15 cm)
12,4 sec. (10x15 cm)
8,4 sec.
(10x15 cm)
33,2 sec.
(20x30 cm)
12,4 sec.
Finishes
Glossy and matte
Glossy and matte
Glossy, matte, luster and fine matte
Glossy, matte, luster and fine matte
Glossy and matte
Rewind function**
No
No
Yes
Yes
No
Prints per roll
150
(10x15 cm)
700
(10x15 cm)
400
(10x15 cm)
110
(20x30 cm)
350
Prijs per print (vanaf)
€ 0,16
(10x15 cm)

€ 0,09
(10x15 cm)

€ 0,12
(10x15 cm)

€ 0,80
(20x30 cm)
€ 0,43
Printer price
View
View
View
View
View
In practice
QW410
RX1HS
DS620
DS820
ID600
Mostly used for
Photobooths
ID Photos
Weddings and photo stores
Photo stores
ID Photos
Advantages
Very compact, de-curl function
Very economical paper
Compact and fast
Big paper sizes
Complete system
Disadvantages
Less prints per roll, more expensive prints
Big and heavy
None
None
Only for ID Photos
Specifications
QW410
RX1HS
DS620
DS820
ID600
Dimensions (cm)
20,8x19,8x24
32,2x28,1x35,1
27,5 x 17 x 36
36,6 x 17 x 32,2
32,2x28,1x35,1
Weight
5,8 kg
14 kg
12 kg
14 kg
14 kg
Warranty
30.000 prints (max. 2 years)
40.000 prints (max. 2 years)
100.000 prints (max. 2 years)
80.000 prints (max. 2 years)
40.000 prints
(max. 2 years)
Prices are excl. VAT.
* The premium paper is thicker, has a deeper black value and a higher white value
** Print (e.g.) 10x15 cm and 15x20 cm from one paper roll without paper loss