Kowa Fluorite Crystal
The creation of legendary optics begins with pure fluorite crystal.
A mysterious stone called fluorite, emits light like a firefly when it is heated or exposed to ultraviolet radiation. Fluorite has an outstanding feature of very low dispersion that cannot be found in optical glass. This characteristic enables Kowa to eliminate colour blur almost completely and dramatically increase resolution and contrast.
Fluorite is considerably more difficult to handle than optical glass as it requires highly advanced processing technology. Kowa put forth extra care, time and technique to produce the ultimate viewing experience with a pure fluorite crystal lens. It's what makes Kowa unique.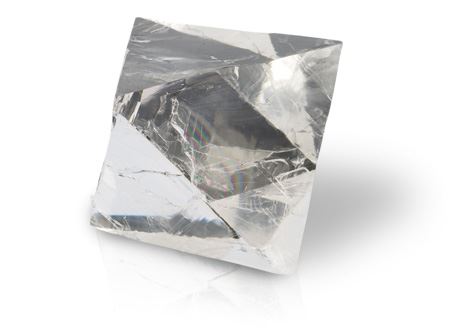 ---
One of the major causes of deterioration of viewing quality in optics is chromatic aberration (colour blur).
Chromatic aberration occurs due to the dispersion of light and the different wavelengths of light focusing on different positions, resulting in a red or purple fringing around the image and reduced resolution.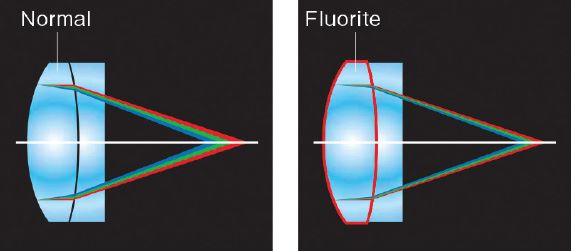 The optimum optical material to minimize chromatic aberration is fluorite crystal.
Fluorite crystal with extremely low dispersion characteristics is used for the convex lens of the Kowa TSN-883/884 PROMINAR models. In place of an ordinary optical glass lens, a concave lens with special dispersion properties is also paired with the fluorite crystal lens, this reduces the chromatic aberration even further and produces ultra sharp resolution while redefining standards of colour brilliance.
This technology is the result of many years of Kowa optical design and manufacture.

The various forms of fluorite crystal from left to right: Fluorite gemstone, Fluorite crystal, artificial fluorite crystal ingot in cylinder form, cut and ready for shaping,
the pure fluorite crystal objective lens precision machine cut to shape.


---
Kowa optical lens material comparison
Digiscoping is a sure way to detect levels of chromatic aberration in any optic. This demanding extreme telephoto application will display even the smallest levels of colour blur often not detected by the human eye. In this example we demonstrate the performance characteristics of Kowa standard glass, XD lenses and pure fluorite crystal.
---
Kowa is the only spotting scope manufacturer to use artificially produced pure fluorite crystal in the manufacture of their optical lenses.
What does this mean for you? Simply put - fluorite crystal delivers the best viewing experience available today, eliminating virtually all chromatic aberration and delivering images of outstanding resolution and contrast.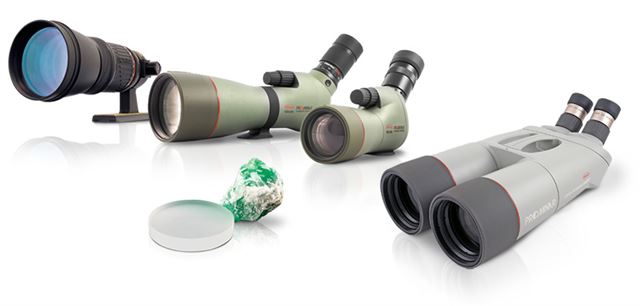 These flawless optical lenses feature in our TSN-880 PROMINAR and TSN-550 PROMINAR Spotting scopes, PROMINAR Telephoto Lens and High Lander PROMINAR Binoculars.

---
Why don't other manufacturers use fluorite crystal?
Fluorite Crystal is a natural mineral and it is extremely difficult to work with creating lengthy manufacturing processes to handle this delicate material. Creating a pure fluorite crystal lens takes specialised knowledge, skill, and costly investment. Kowa made the decision many years ago to develop these required skills to create pure fluorite crystal objective lenses to deliver the ultimate viewing experience. The competition either does not have the optical heritage required to develop such skills or has simply not invested the time or resources in developing and working with such a demanding material.
Some manufacturers have in the past used fluorite in their scopes but have found it too expensive and too problematic to continue in full-scale production.
They instead use ED glass in their compact spotting scopes – This is a cheaper raw material that is much easier to work.At best, there are higher grades of ED glass, some containing a diluted mix of fluorite to attain the features of fluorite - but this still performs on a lower level than fluorite in its purest form.
Kowa have over a long period refined all procedures and techniques to make fluorite the 24ct gold standard, that our competitors would like to aspire.
---
Look for the seal of ultimate optical quality.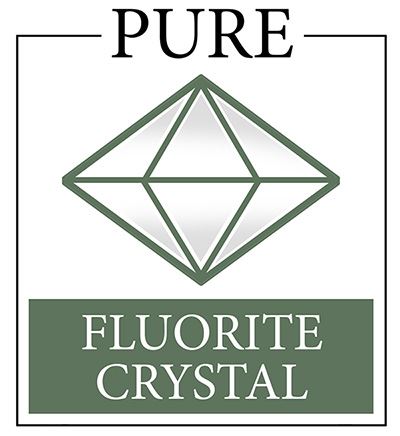 Identifying Kowa's unique qualities. Part of the marketing activity to promote Kowa pure fluorite crystal lenses will be to use a logo on all products that feature pure fluorite crystal. We will use this new logo on marketing materials including advertising in print and digital as well as exhibitions and packaing. The new logo will become the seal of quality for Kowa PROMINA fluorite crystal products.