Unique in the optics world!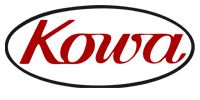 The Japanese Kowa has been long known in the optics world. The brand produces binoculars and spotting scopes from the highest quality. Kowa can match the best brands in the market very well and is regularly tested in various journals.
Clear and bright
Kowa scopes and viewers are ideal for the most demanding users. The strongest light, detail and clarity are very good. There are also various accessories available such as stay-on bags, camera adapters and eyepieces.