Anyone looking for pure quality cannot ignore KOWA. With a range of binoculars and spotting scopes from the absolute top segment, Kowa offers everything for the demanding birder and nature lover. With XD lenses to full fluorite crystal lenses, Kowa binoculars have unprecedented clarity, detail reproduction and edge-to-edge sharpness. With numerous digiscoping solutions, it is also easier than ever to take photos with your smartphone or camera while using your binoculars or spotting scope as a telephoto lens.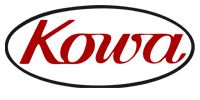 KOWA in short:
• Absolute top-quality binoculars and spotting scopes
• 100% fluorite-crystal lenses on flagship models
• Easy digiscoping: taking pictures through the scope with your camera or smartphone
• The brand for birdwatchers, nature lovers, astronomers, plane spotters and researchers
• We offer a 10-year warranty on Kowa products
Click on the links to check out all of Kowa's binoculars and spotting scopes.
Flagship dealers
In the Netherlands BENEL has several KOWA Flagship Dealers. In the stores of these Flagship Dealers you can go for your Kowa binoculars, spotting scopes and digiscoping solutions. They offer the opportunity to test or view the products and can also provide you with the best advice for the purchase of a Kowa binocular or accessory.
Check out here all our Kowa Flagship Dealers from Holland.

Kowa ambassador
Bird watcher Ariaan is the ambassador of Kowa in the Netherlands. Ariaan has been a bird spotter for over 30 years. Over all those years, he has seen more than 200 species of birds. During the bird excursions that Ariaan offers, you can literally see them fly! You'll learn everything about birds at the most beautiful locations. And you'll see them from very near, thanks to Kowa's optics. With the spotting scopes and binoculars, Ariaan and his students observe even the tiniest details.